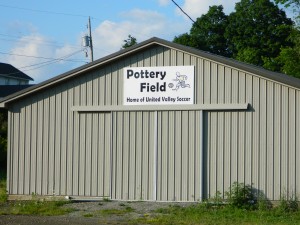 1899 – 1920
Article from the New Bethlehem (PA) Leader Vindicator, 30 June 1976
For a period ranging roughly from 1899 to approximately 1920, Hawthorn was the site of the Hawthorn Pottery Company – one of the leading small industries of the Redbank Valley. Hawthorn Pottery got its start in 1894 when W.T. Putney and E.A. Hamilton purchased the land, buildings, and pottery-making equipment from George Alabaster. Alabaster was a well-known potter from nearby New Bethlehem, but little is recorded about his operations in Hawthorn. At the time, Hawthorn was known as West Milville.
The pottery relied on local materials – using "potters clay" from the Red Bank Creek and paying 20 cents per (long) ton – 2,240 pounds. Over the next several years, additional buildings were added and a railroad siding was built to serve the pottery. The company also opened offices in the Bissell Block in Pittsburgh – a major center of the class and crockery trade for the region.
During the early 1920's the pottery passed into the hands of the American Clay Products Company of Zanesville, Ohio. In 1928 the pottery ceases operations and the facilities were sold. The main products of the pottery were crocks and jugs. The former ranged in size from one to 15 gallons and the jugs varied in size from 1/2 gallon to five gallons.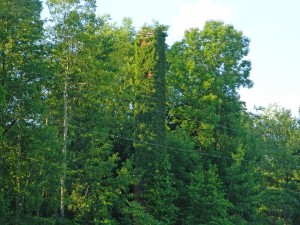 While no longer prized for their utilitarian function of food and beverage storage and preservation, the crocks and jugs have become sought-after collectors' items. The products of Hawthorn Pottery are easily recognized by their uniform light gray color and the name or "logo" of the pottery. Most crocks or jugs are stenciled with blue lettering that reads "Hawthorn Pottery" underneath which is stenciled "Hawthorn, PA.". On some crocks and jugs – mainly the larger ones, the words "Hawthorn Pottery" are replaced by the words "H.P. CO.". Many of the larger crocks that bear the logo of "H.P. CO." also indicate the size of the crock (in gallons, starting with the two gallon crock and ranging up through the larger sizes. The number (size) on each of these is generally surrounded by small "tear drops", arrowheads, or other decorative markings.
While crocks and jugs were the mainstay of the pottery, a number of other products were produced on a smaller scale, including water coolers, pitchers, and umbrella stands. A few other novelty and specialty items were also produced including reclining lions and assorted small animals.
Collectors and decorators are likely to be most successful in their quest for Hawthorn Pottery items at the antique shops, flea markets, and auctions in central Pennsylvania, but some items are showing up farther afield in neighboring states, including Maryland and Virginia.